SLEEPING DOGS
'Sleeping Dogs' is a large very detailed drawing assembled from individual pen and ink drawings. I added 'work in progress' sketches below to illustrate the process of creating it.
The dogs vary greatly, each one has a different texture of fur, is from a different breed or a mongrel, has a different character and pose. All together they form a unified landscape of dogs interwoven as a pattern.
The drawing is inspired and influenced by various experiences and mythologies.
The actual drawings are derived from very different dogs: many from sleeping street dogs I encountered on travels, others are beloved pets of friends, and of course i looked at lots of unknown darlings on the web. But I was trying to create a new identity for every dog (I believe the attempt to copy anything inevitably fails).
Dogs enjoy a rich mythological history. The dog has long been viewed as a liaison between the physical and non-physical dimensions. Ancient Egyptians, Greeks, Romans, Celts and Aztecs all have prescribed the dog as a sacred guardian of the Otherworlds.
Well-known examples are Cerberus, the three-headed dog guarding the entrance to Hades, the greek mythological underworld, and Anubis, the ancient egyptian dog- or jackal-headed god in charge of the transition to the Afterlife. Xoltl, the Aztec god of death and the setting sun had a dog's head and led the sun through the nocturnal underworld, to be reborn with it at dawn.
Besides this powerful association with death and transition, as a symbol the dog often stands for loyalty, friendship, guardianship, protection and communication.
But the drawing also relates to the contemporary place which dogs occupy in the lives of humans.
Dogs are man-made animals. We coexist with them almost everywhere, and have been throughout most of our recorded history.
We breed them as helpers, friends, tools or weapons. A dog can be someone's best friend and someone else's worst insult. (The female dog is an insult even for dog-lovers – she is the bitch).
We may love dogs like family members, test chemicals on them, eat them, make them find explosives and people, have them guard premises and intimidate others, keep our sheep in check, pull our sledges, help us hunt, diminish our loneliness or act as fashion accessories. We use them, abuse them or spoil them.
If they live in the streets, we may feed them, befriend them, ignore them or shoot them. Their faithfulness and respect towards humans makes dogs bear almost anything we inflict on them.
The dog may be a mirror to us human beings – reflecting our diversity of values, how we treat each other, and our inconsistency as individuals and as a species. This allegorical relationship is ingrained in many popular cliches in various languages, some english examples are the underdog, a dog's life, dog eat dog.
And… to let sleeping dogs lie may be a wise thing to do, or just pure cowardice, depending on the circumstances.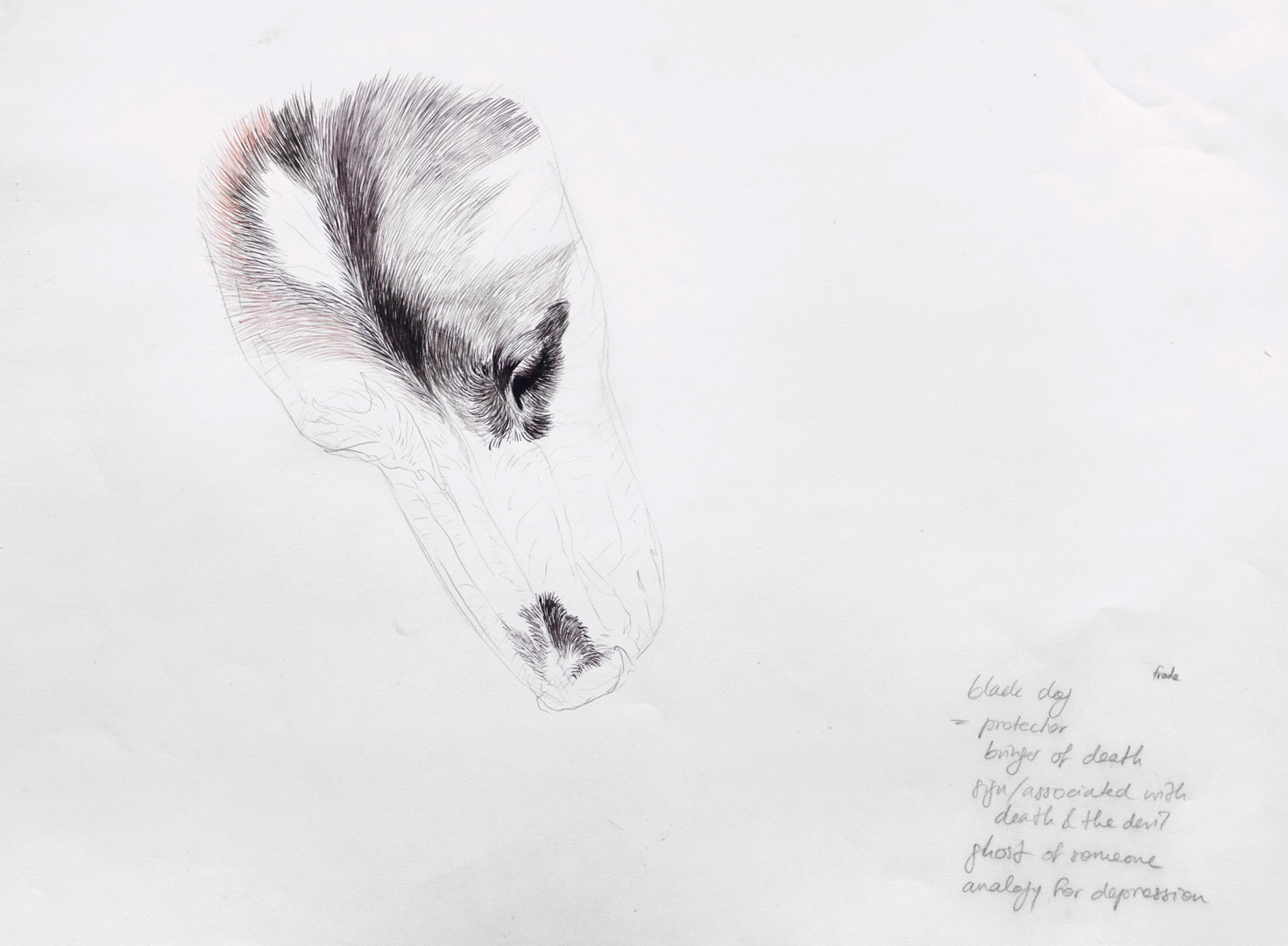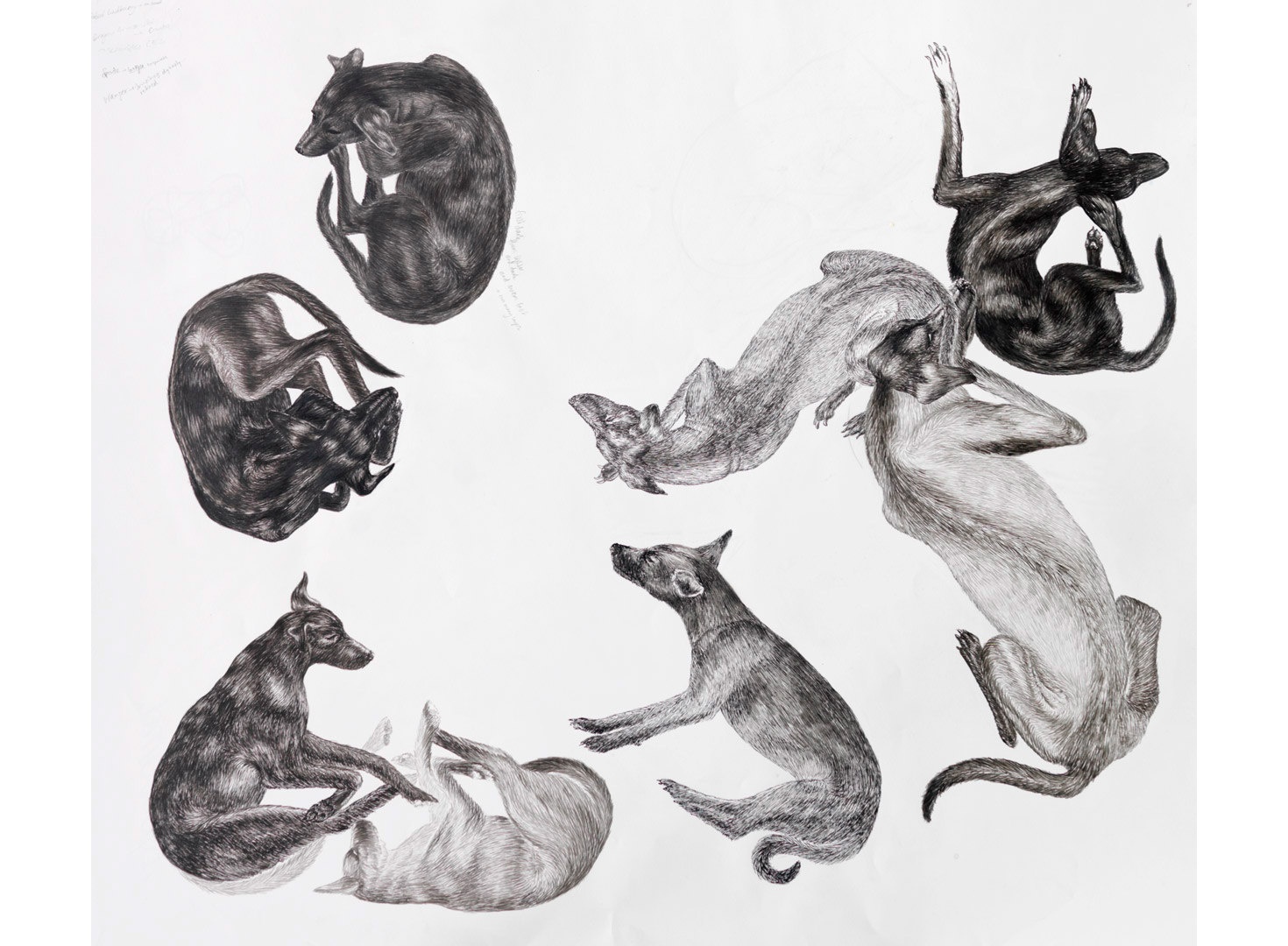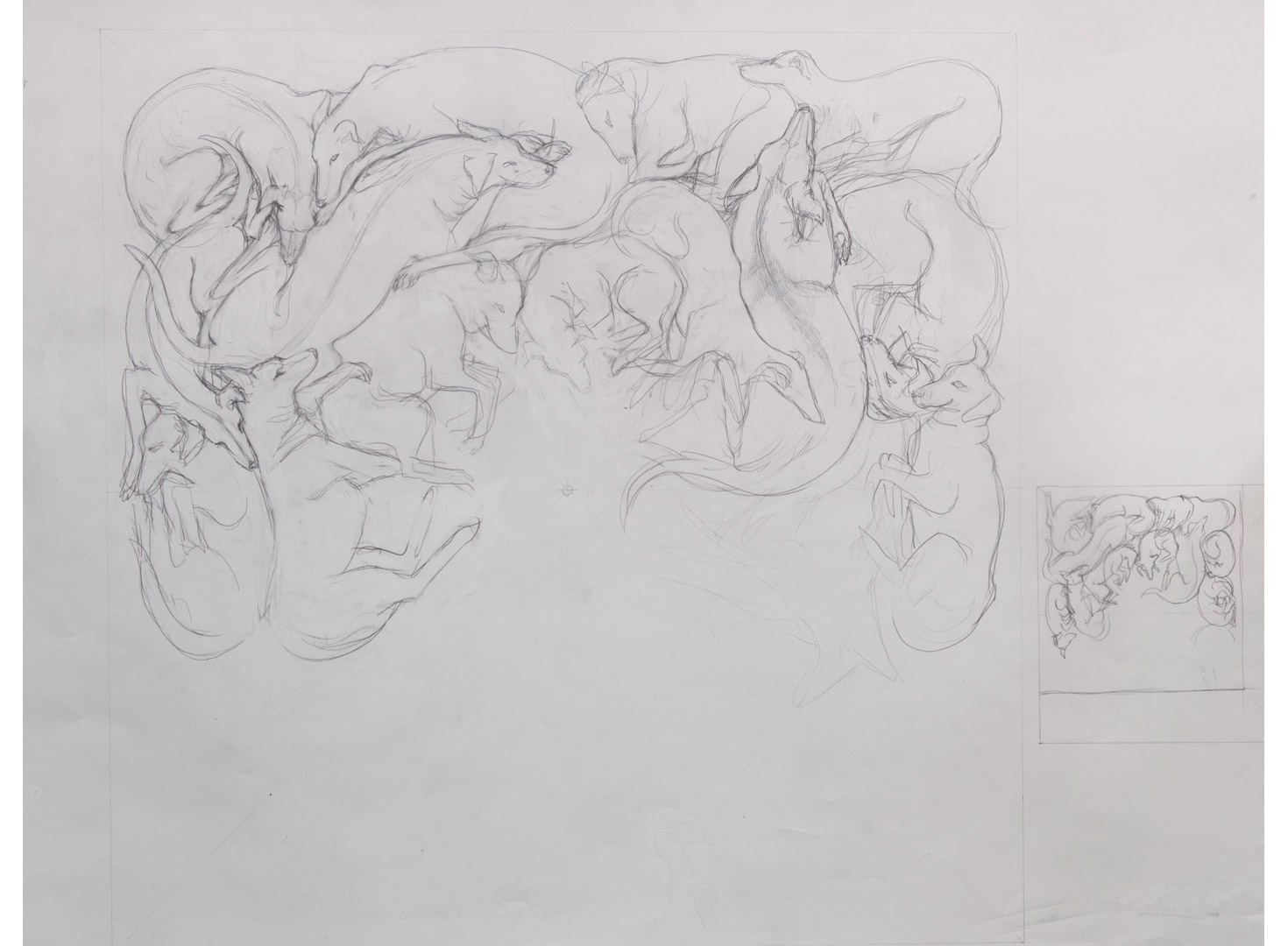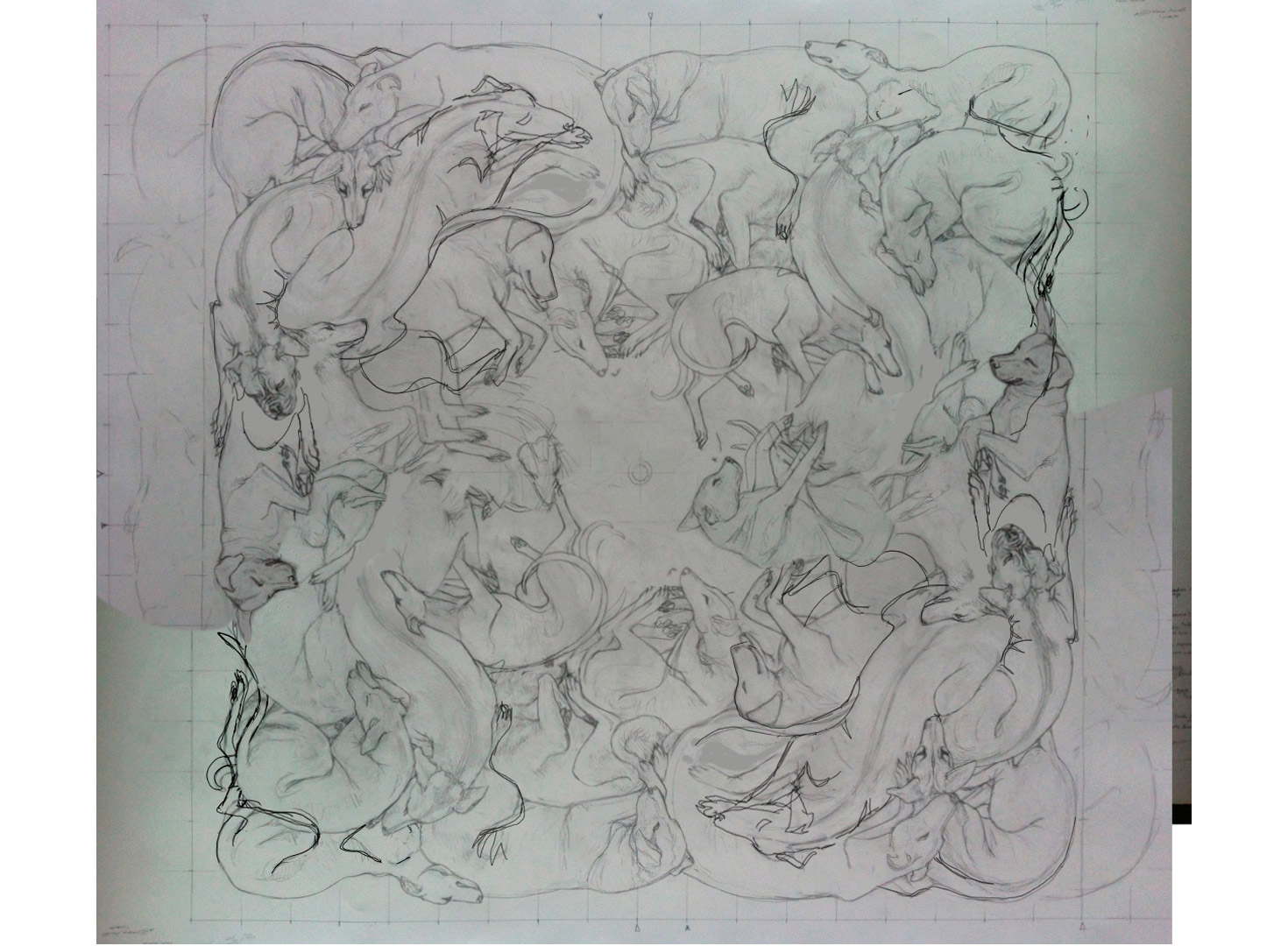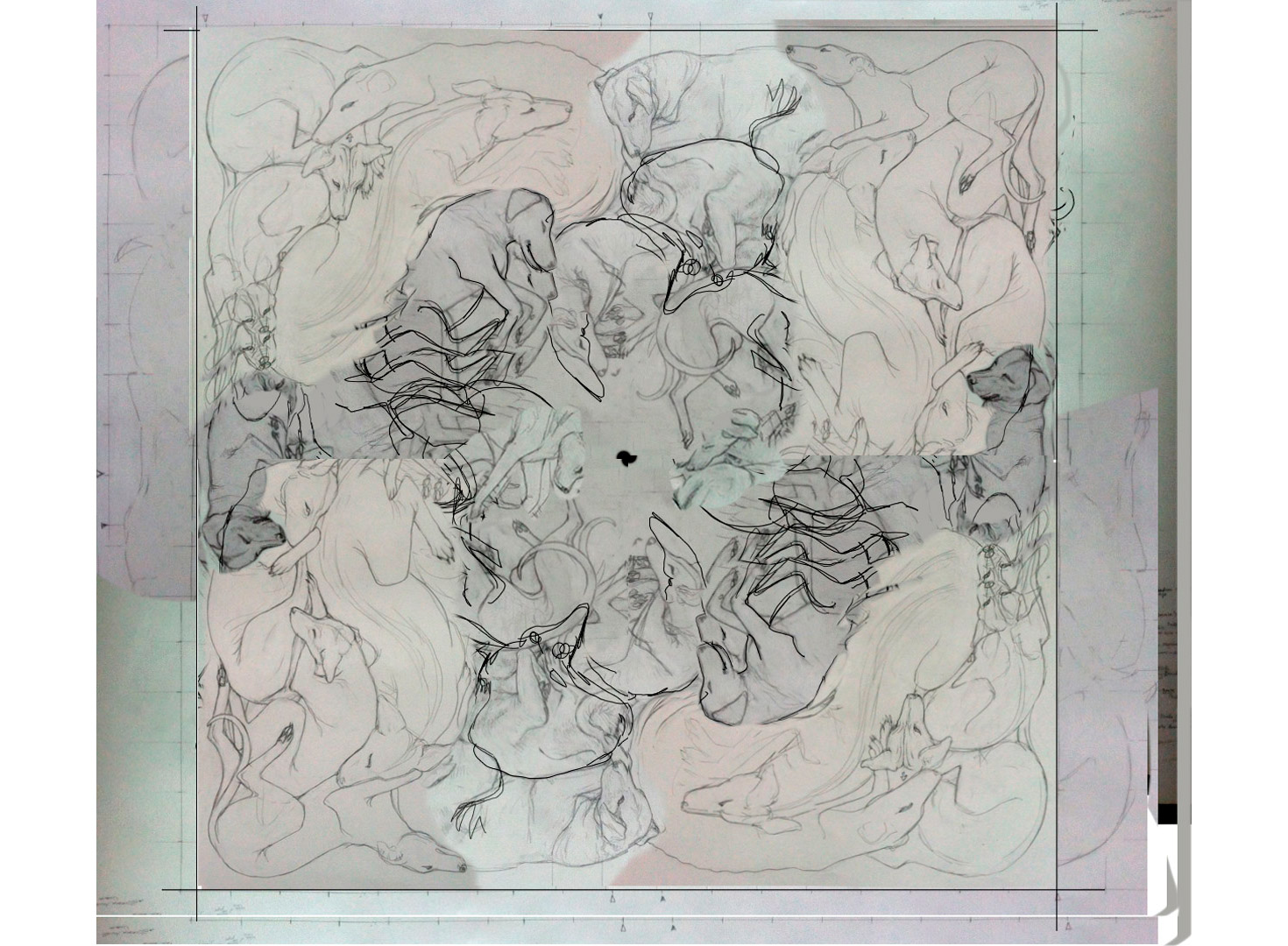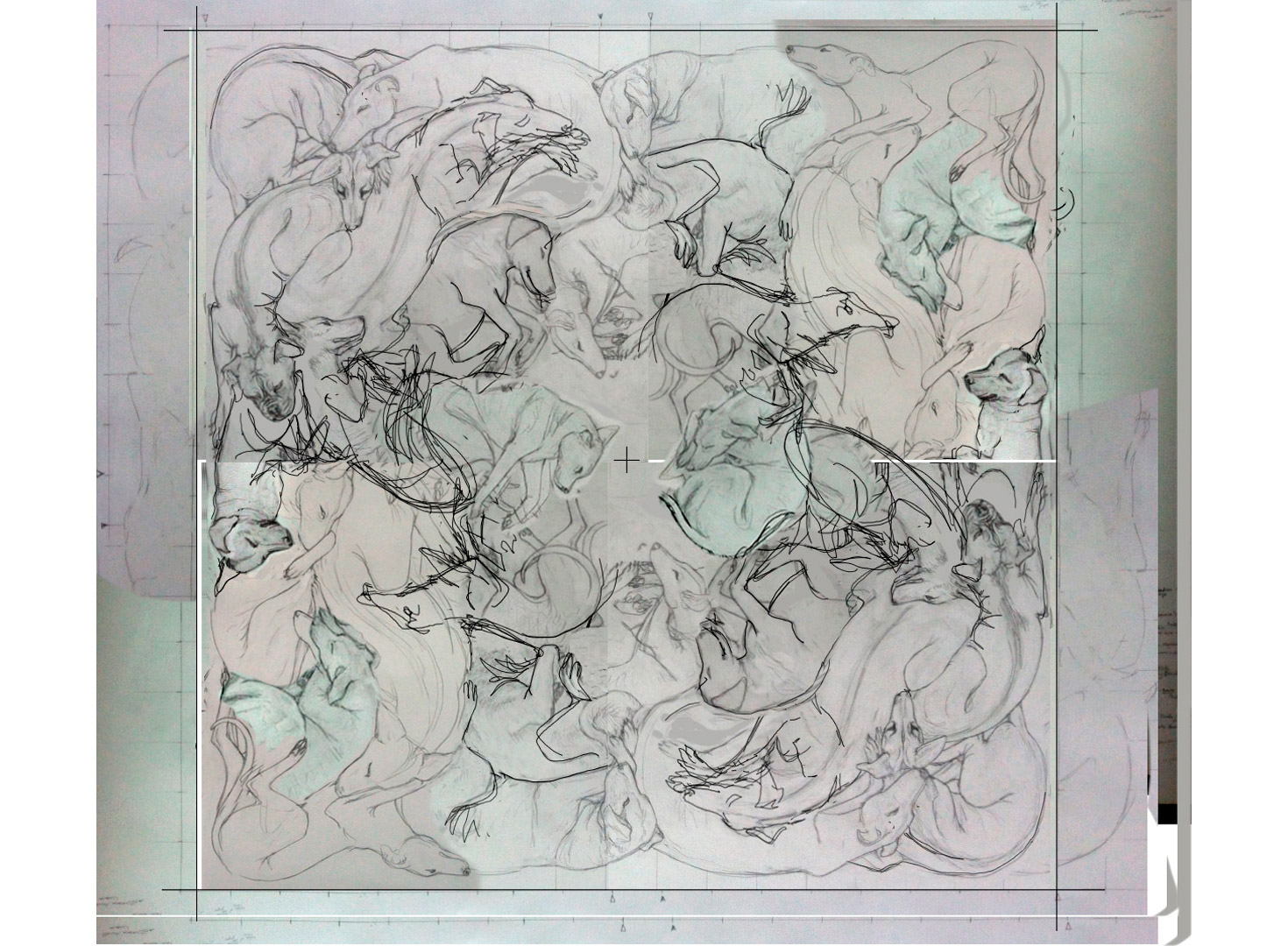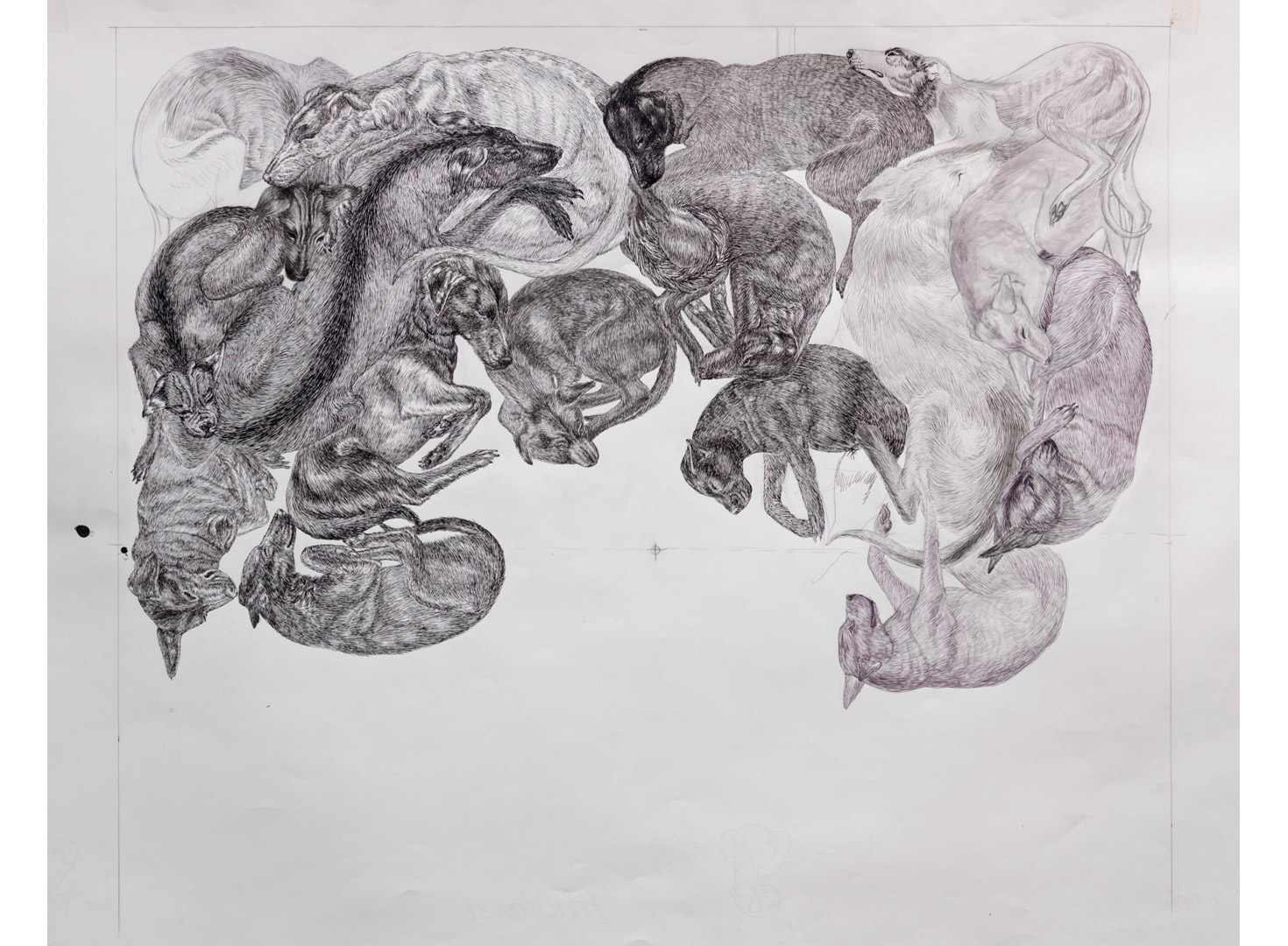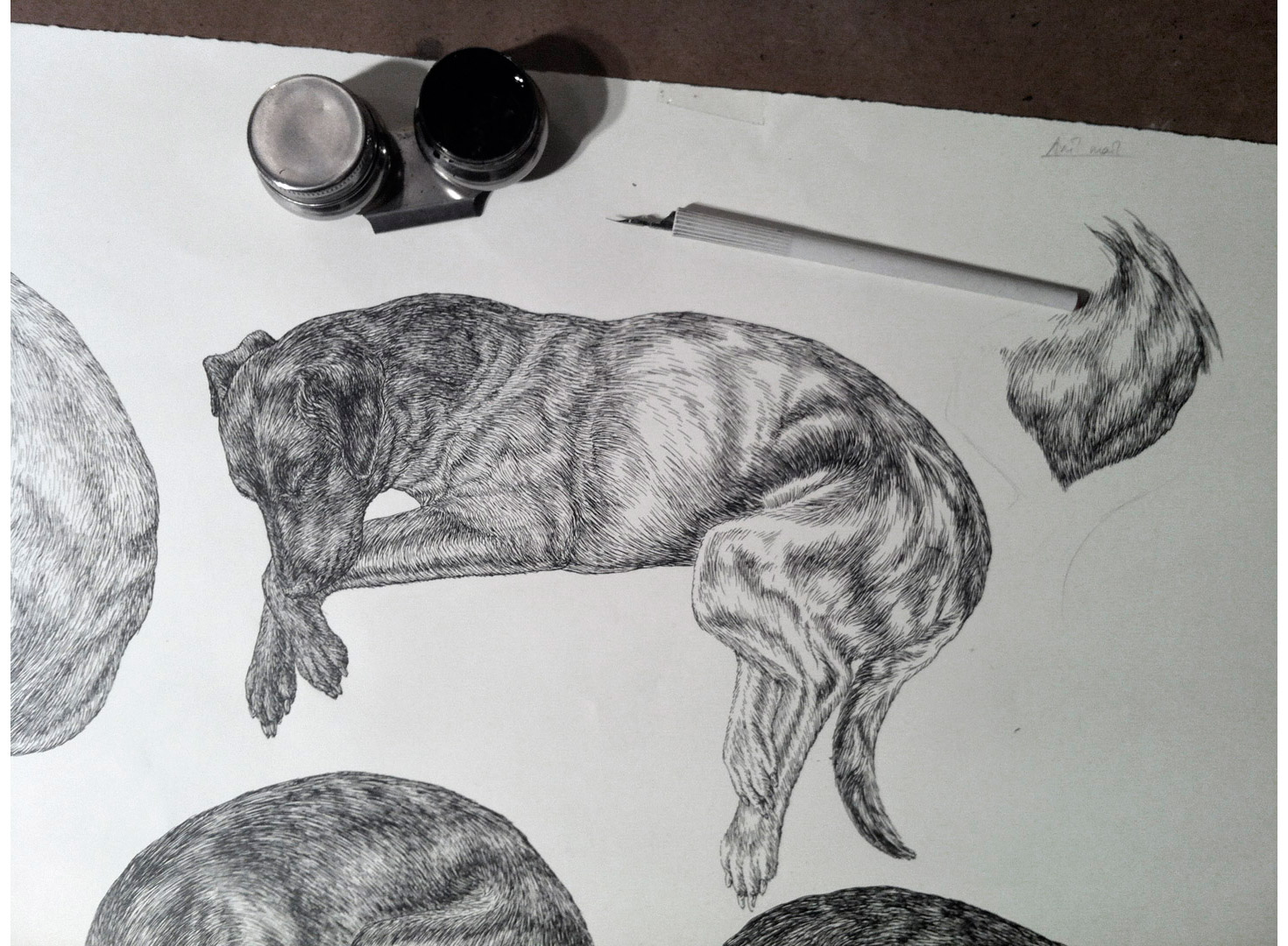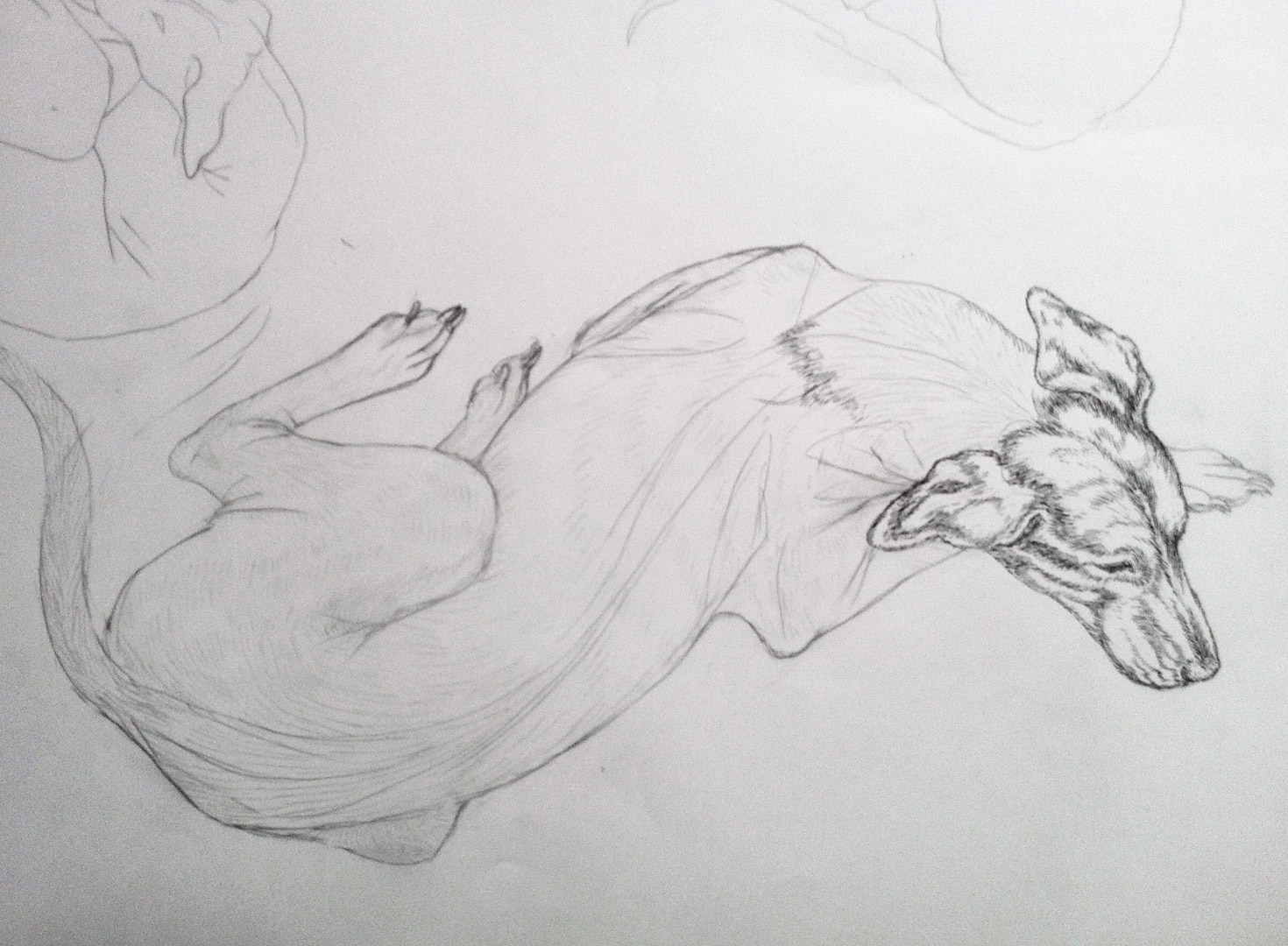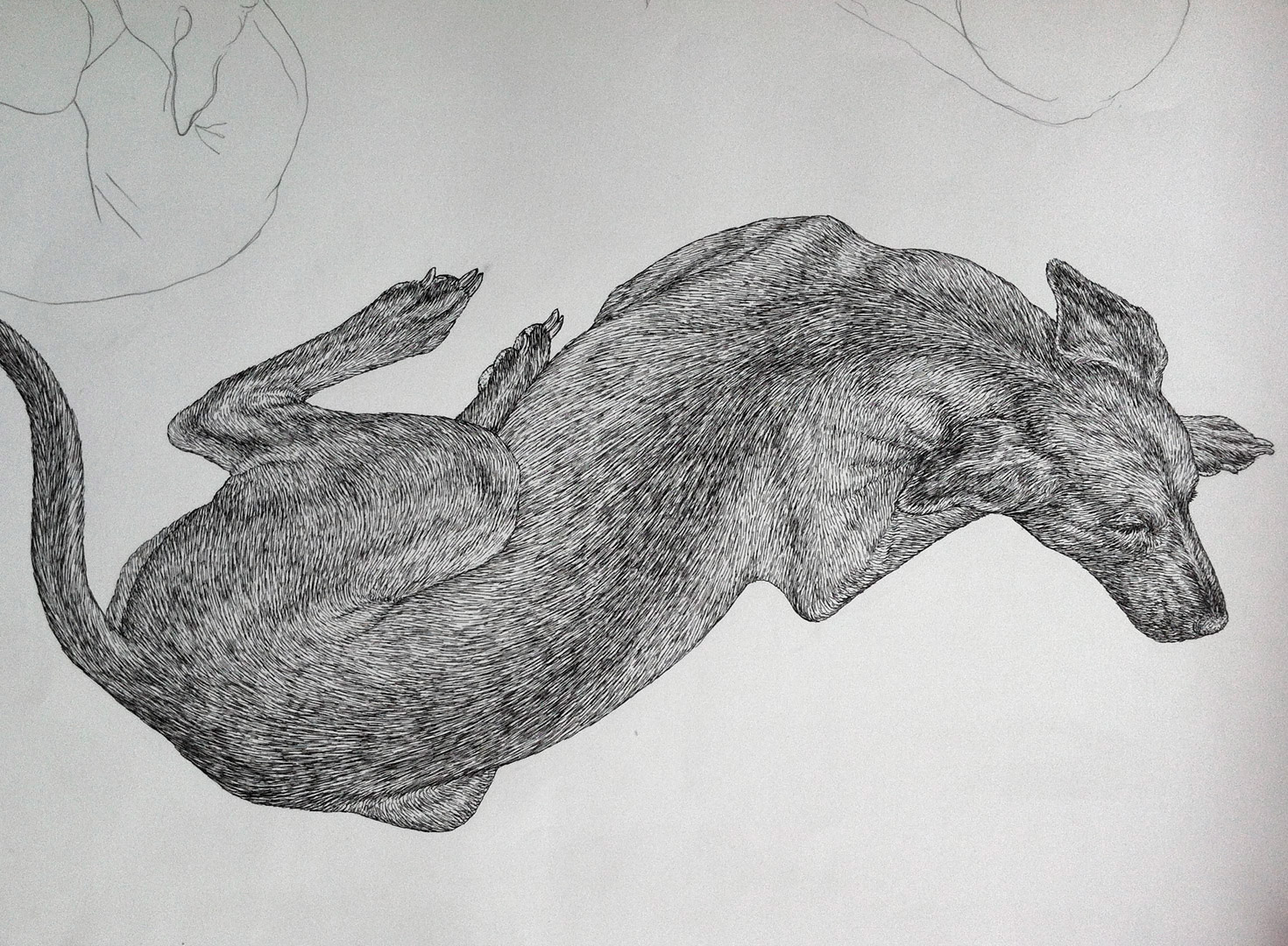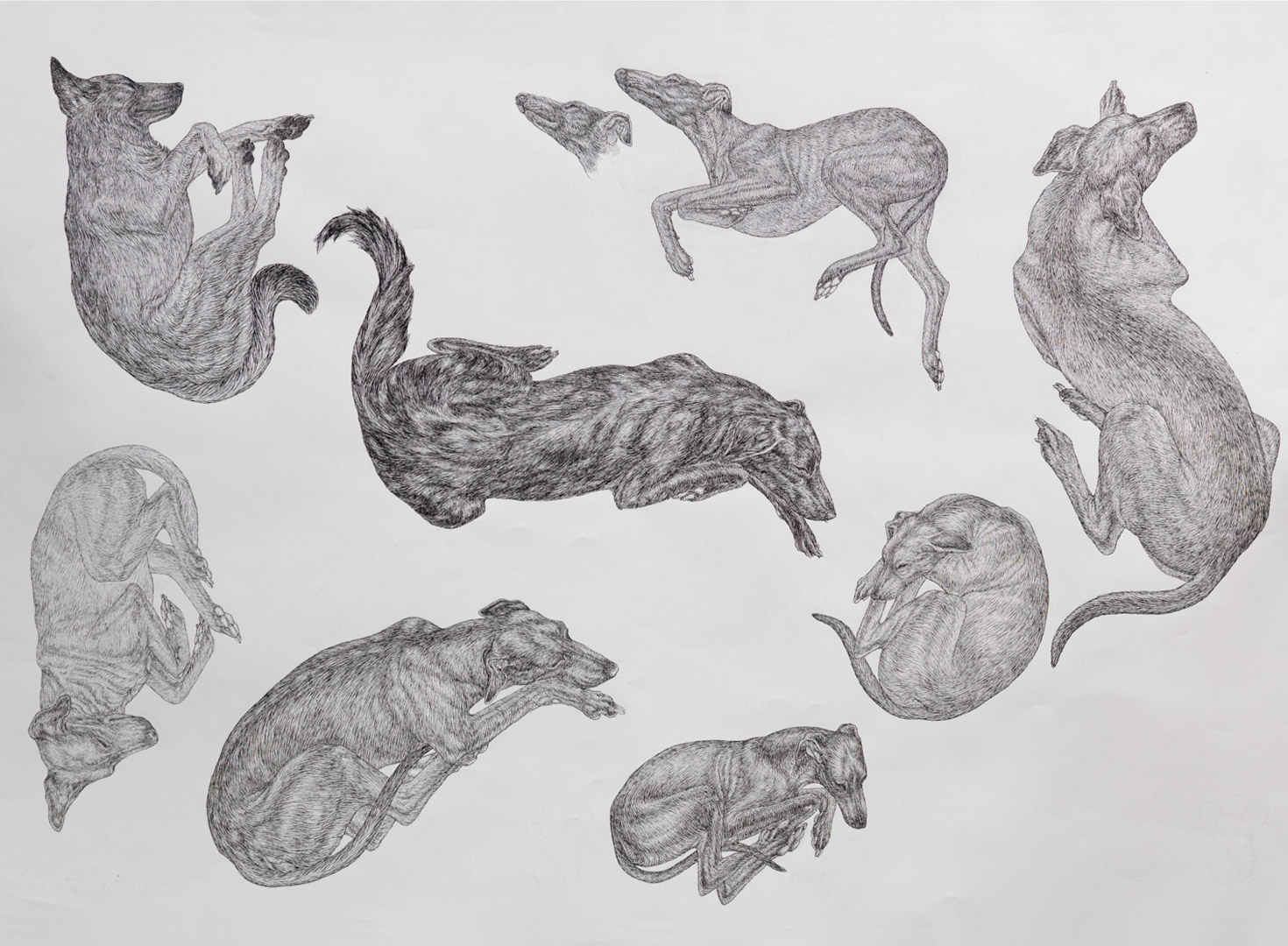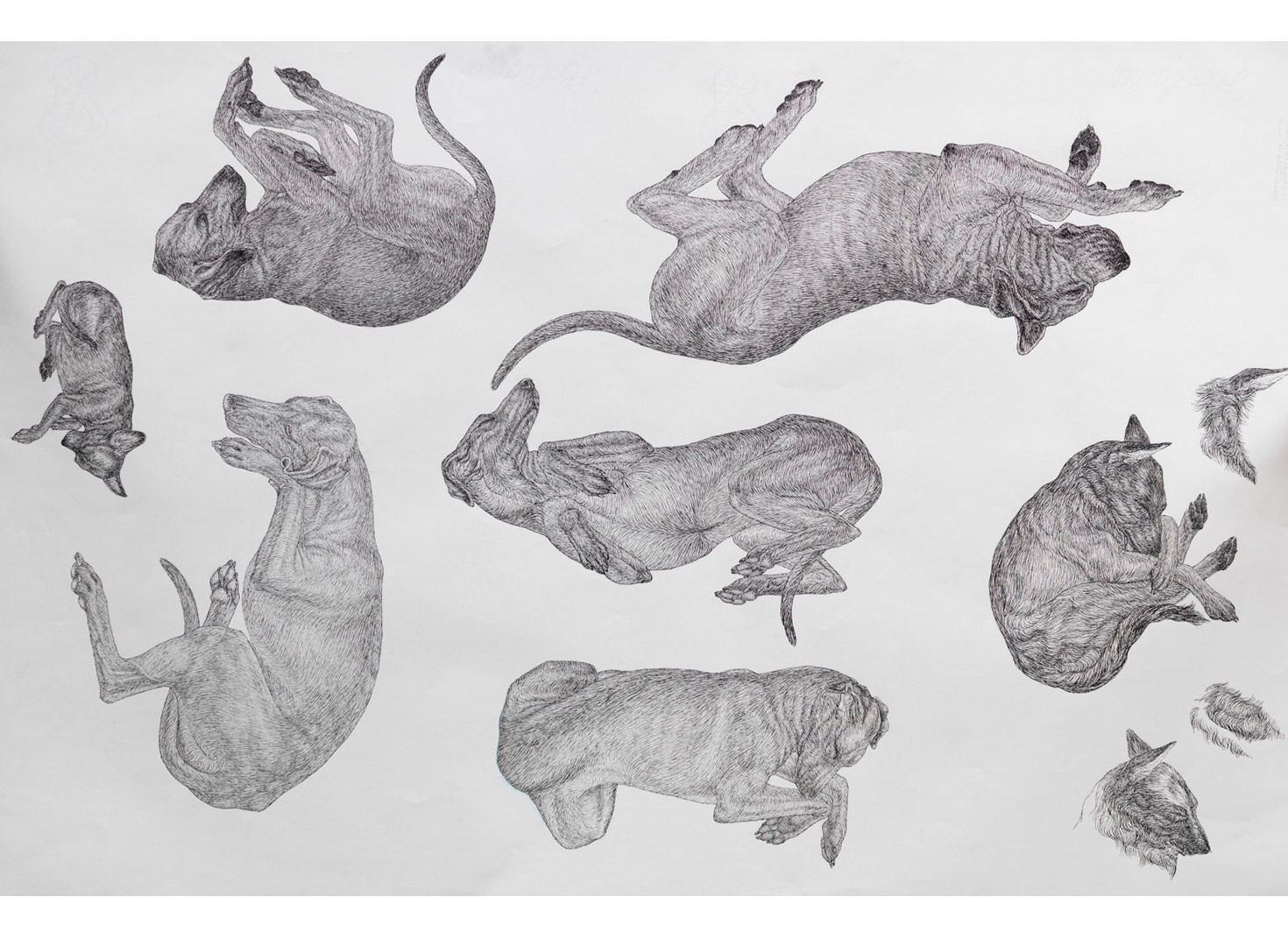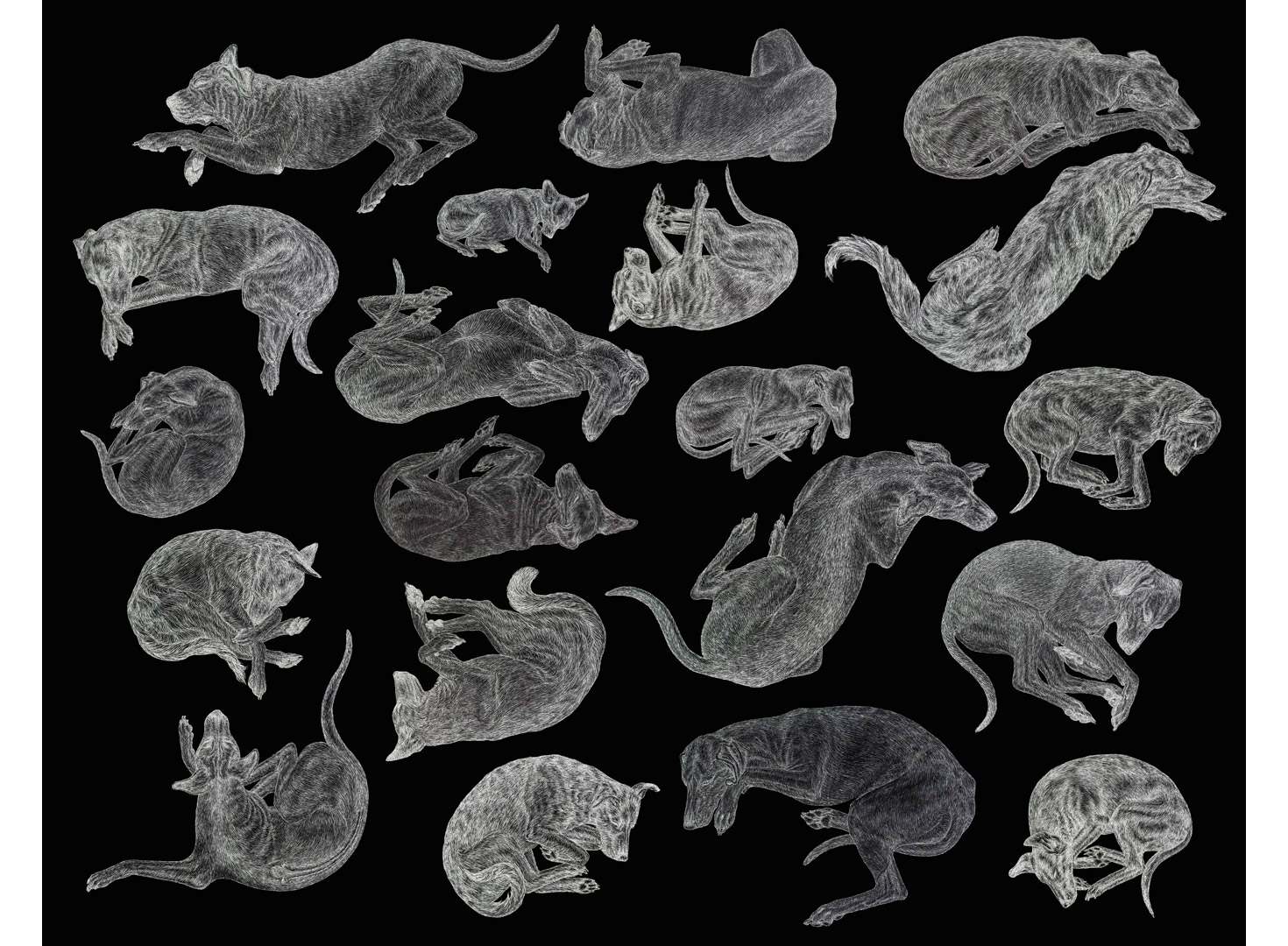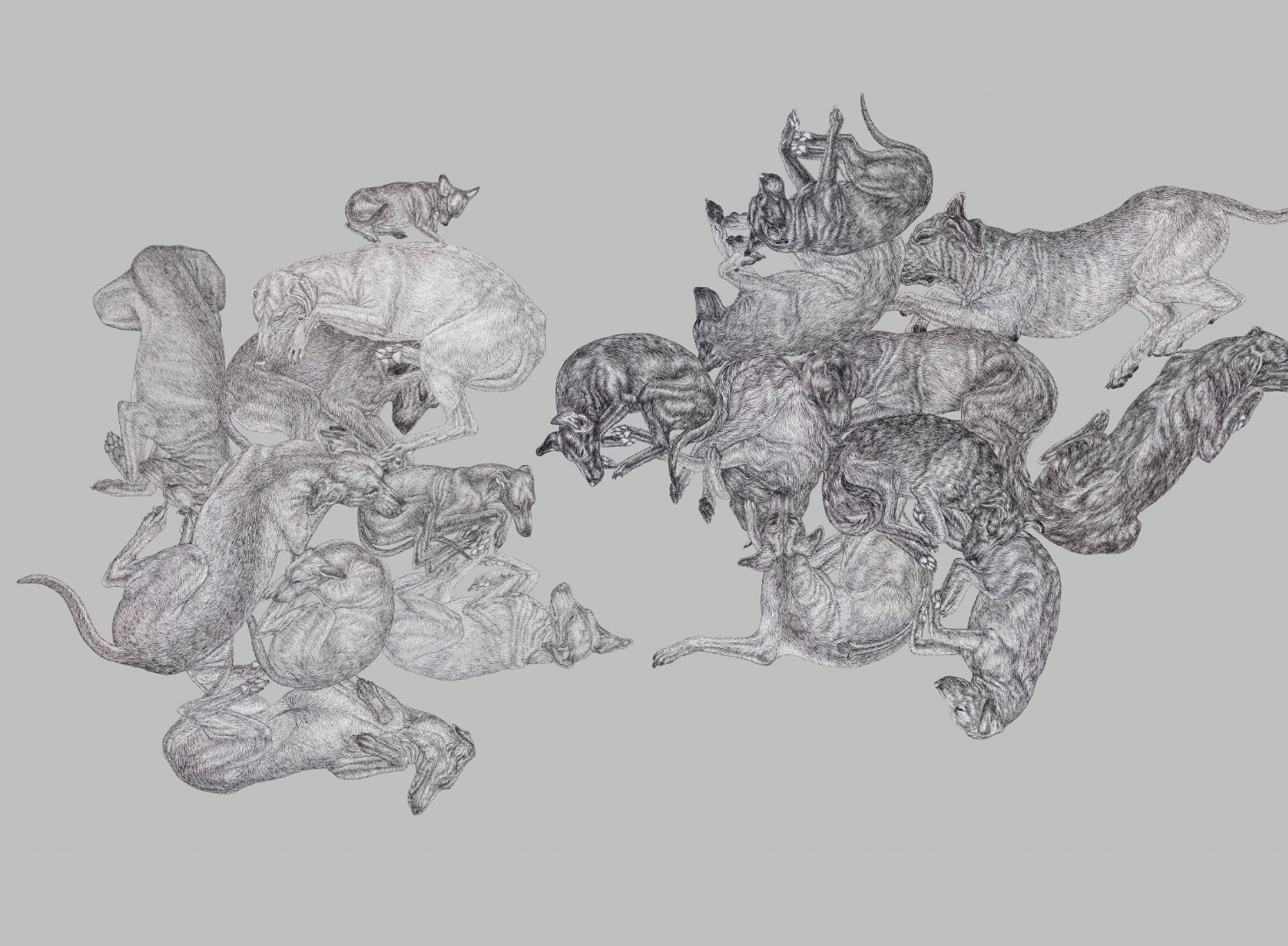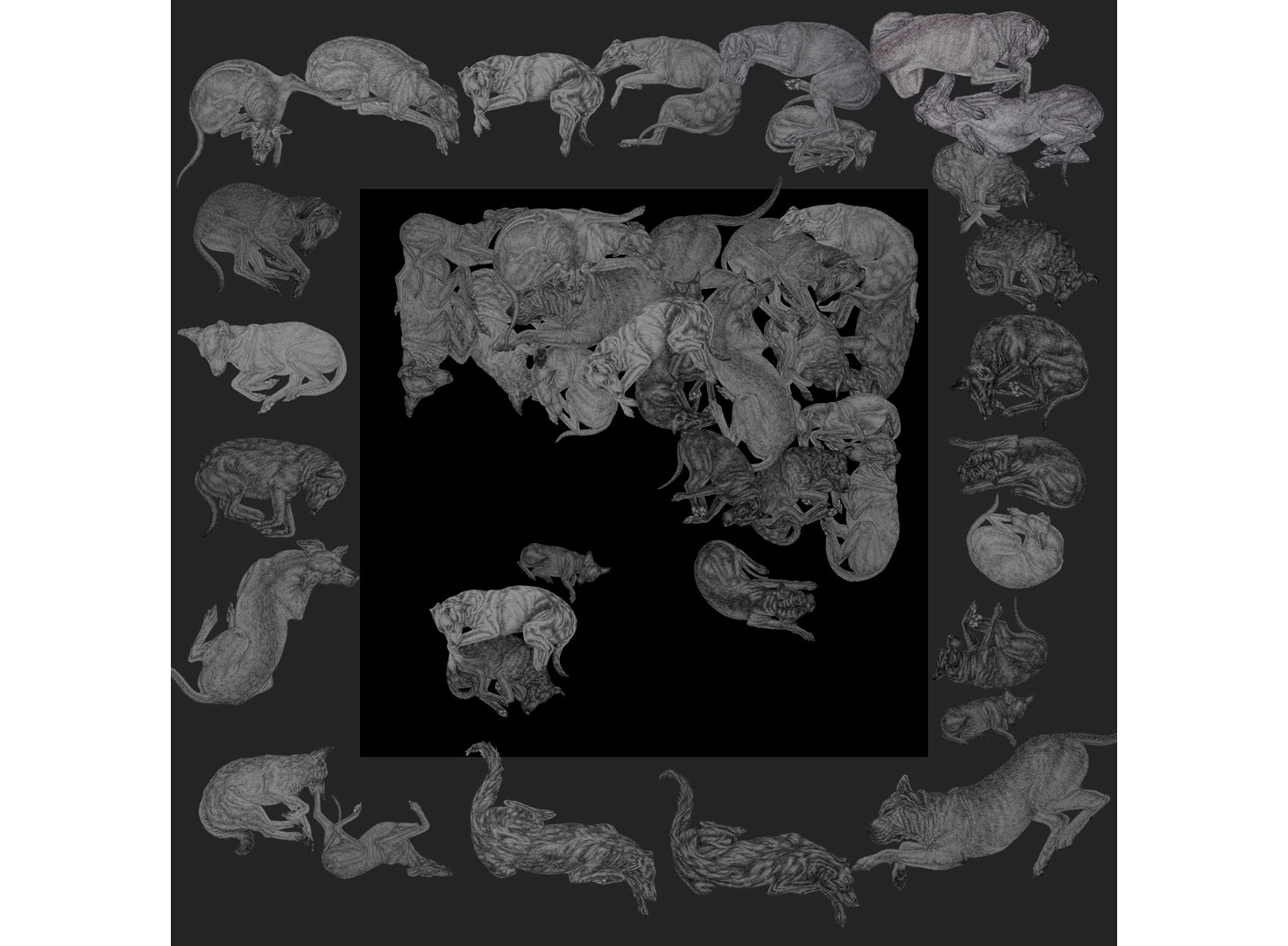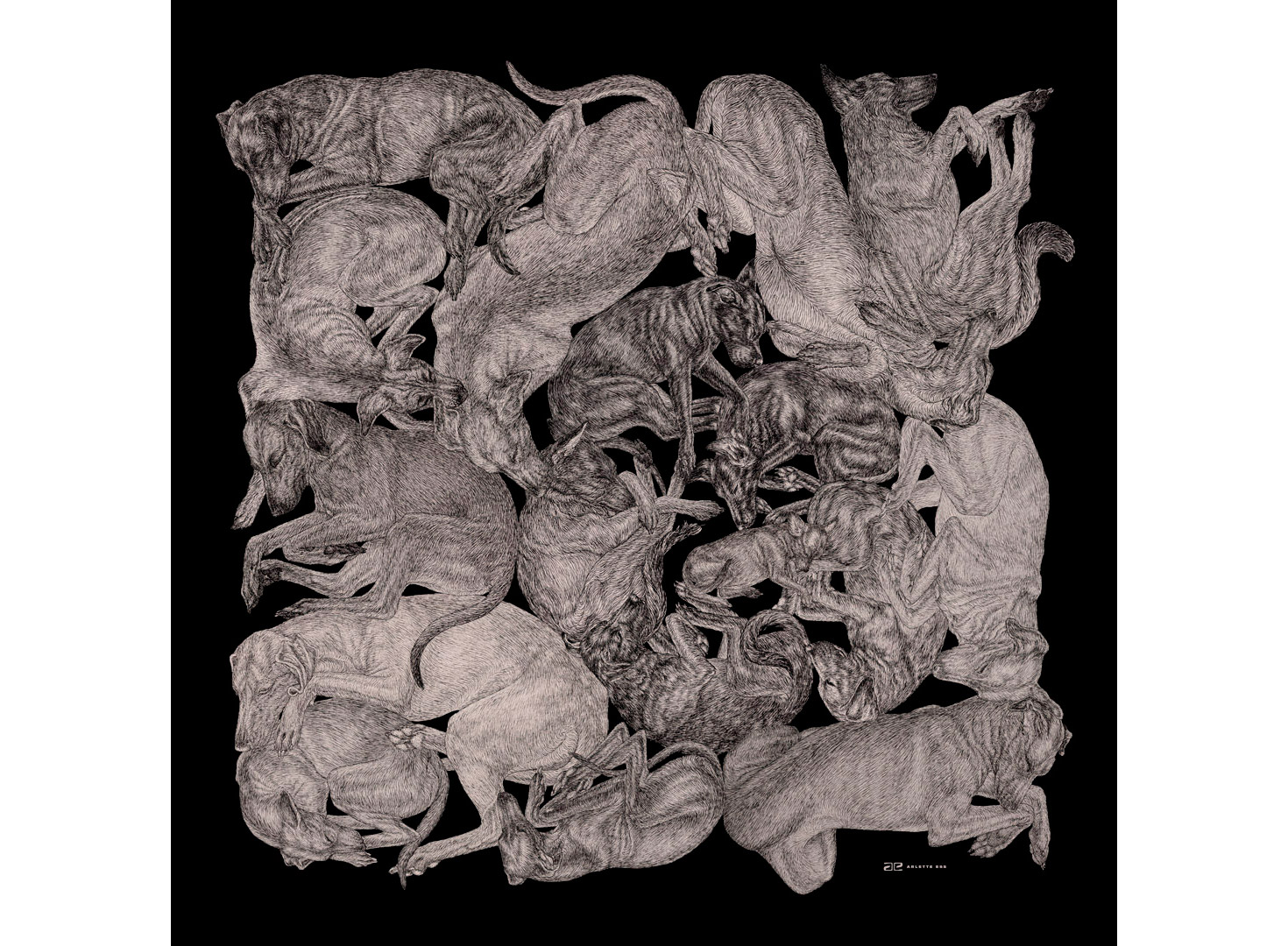 With the initial idea and research images I started out experimenting on how to draw the dogs, deciding whether to use a fine brush or a metal pen, whether to make them appear more three-dimensional or flat and textured etc. I then decided to draw them all together and spent a long time sketching and assembling dog-shapes, but at the time I wasn't able to create a kind of unity and consistency when drawing them so closely together – they each needed to look different but form a harmonious whole. After lots of sketching I decided to draw them one by one with a metal pen, to have complete freedom in editing and combining them later. I chose a rather flat and finely textured appearance, resulting in a certain balance between them looking 'real' and 'unreal' at the same time.